Michael Jordan ,Barry Bonds ,Andre Agassi lay off : here comes Sachin Tendulkar!
Scene 1 :


A 15 year old boy, actually a cricketer representing India faces the then rookie leg spinner Mustaq Ahmed of Pakistan in Pakistan ….swings way up and the ball goes out in the stands like a bullet ..Mustaq meets similar feats in next over ….Frustrated Mustaq's mentor the great Abdul Qadir walks in to bowl to this 5'3″ boy whom Qadir challenges to hit him…The Pakistani spectators wave signs "Dudh Pita Bhachcha ..ghar jaake dhoodh pee"…And oh…Qadir meets the same treat …sensational sixes all over the ground….Qadir bows down to show respect to this 15 yr old.

Scene 2 :


The same 15 yrs old guy gets an opportunity to play for India in tests and is playing the fast bowler Waqar Younis…Waqar pounds in a bouncer which hits the boy's nose …Everybody chill…The boy gets up to receive treatment from the physio and with a tape on his nose continues playing to make a fighting 52 to save India some respect.
Scene 3 :


1 yr later in England the now 17 yr old scores a match saving 100 to become the second youngest player to score a test century in world cricket …and genius is born !!!
Scene 4 :


8 yrs later …the now 25 yrs old guy ,a mature father of a girl and recognized by one and all as a maturing batsmen is compared with Sir Don Bradman by the Australians ,with W.G.Grace by the English and is anointed the best batsmen in the world
Welcome world …Here comes Sachin Ramesh Tendulkar

Recently 2 words described how much the world respects and bowlers fear Sachin's batting : When Sachin was selected to "give balance " to the team selected for Kuala Lampur Commonwealth games ,the skipper of the Australian team Steve Waugh 's reaction was :BAD NEWS!When Tendulkar plays for India its bad news for the opponents ..yes Sachin himself says : A win for India is all that matters !What's so special about Sachin that makes him the Sachin Tendulkar? Perfect batting ? No not just that ..it takes more than that to become the hope ,aspiration of 1.1 billions …

Had Desmond Haynes ever thought that his record of highest one day centuries would be broken by a 25 year old?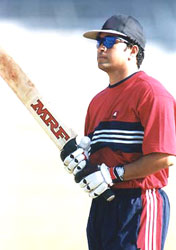 My future is so bright that I have to wear sunglasses !